Masonic Blood+Organ Donor Program to Participate in PA Donor Day
The Masonic fraternity teaches compassion and concern for our fellow man. What better way to demonstrate this virtue, than by offering the greatest gift – the gift of life – to those in need?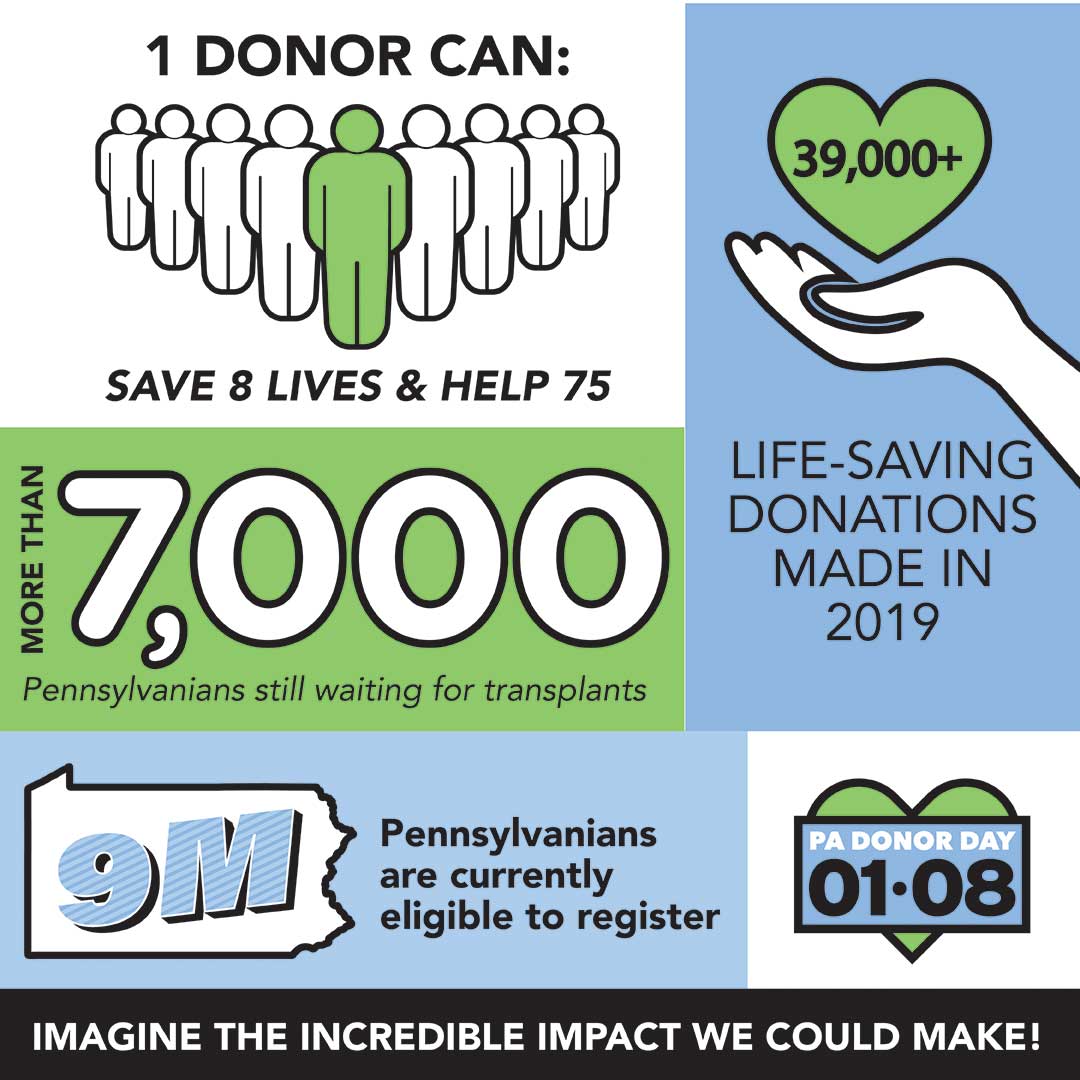 Every 10 minutes, someone in Pennsylvania is told he or she needs a life-saving transplant. With more than 7,000 patients currently on the transplant waiting list, the need for more registered organ and tissue donors is a public health crisis. To educate and unite Pennsylvanians around the solution, the Masonic Blood+Organ Donor Program will participate in the PA Donor Day on Saturday, Jan. 8, 2022, and they need your help. The goal is to surpass five million registered organ and tissue donors in the Commonwealth.
The fact that one donor can save up to eight lives was the inspiration for the date of Jan. 8. PA Donor Day is an opportunity to unify supporting organizations across the state to provide education about the life-saving impact of organ and tissue donation and encourage people to register as donors. It is a collaboration among Donate Life Pennsylvania (DLPA), Center for Organ Recovery & Education (CORE), Gift of Life Donor Program (GOL), the Pennsylvania Departments of Health, Education and Transportation and others.
Pennsylvania currently has a little more than 4.9 million registered donors. and DLPA aims to surpass five million registered donors through PA Donor Day.
According to Gift of Life, last year, organ donors across the country made 39,000 life-saving transplants possible. If every potential donor is registered, it is estimated that the number of lives saved each year would double.
Anyone can register as an organ and tissue donor regardless of age or health. To register as a donor, visit www.donatelifepa.org. If you're already registered, here are other ways to participate:
Add "Organ Donor" on your Facebook profile and share with your social networks.
Share the Grand Lodge of Pennsylvania's social media posts to increase awareness.